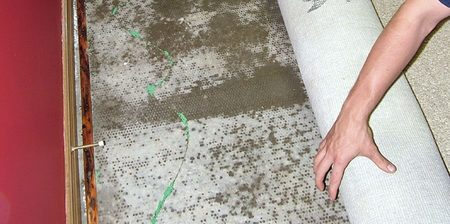 Water Damage Restoration Services

Water damage often occurs without warning; a pipe breaks or your sump pump fails, leaving you and your family in a precarious situation. It is important to take care of water or flood damage as soon as possible because as long as the water is there the damage continues. In 48 hours clear water becomes contaminated, in 72 hours clear water in the basement is treated the same as raw sewage due to growth of bacteria and other biological toxins.
To prevent this, Moore's Carpet Cleaning Service has a 24 hour emergency water damage restoration service. Once the problem pipe or leak has been stopped then we get to work. We have water excavation equipment to extract any large bodies of liquid from your property. Our high grade air movers and dehumidifiers are set up to make sure that secondary water damage will cease and desist. While the excess moisture is removed from the air of your residence or commercial business we assess the damage done to your carpets and furniture.

Once the water is removed the cleaning process begins. Next is the sanitizing procedure where Moore's Carpet Cleaning Service carefully goes through the affected area to kill any bacteria left behind by the water damage. Every job has a IICRC certified water damage technician onsite.
If you find yourself facing the stress of water damage then give Moore's Carpet Cleaning Service a call as soon as possible.
We will restore you home or business back to its original state.
We Accept Debit Cheque Cash Visa Mastercard and American Express